Following our acquisition by Unifonic, we're proud to announce that we've officially become a WhatsApp Business partner. This partnership holds immense potential for our valued customers, and we're eagerly looking forward to introducing various innovative solutions. So, what does this mean for businesses? Before we delve into that, let's first explore what the WhatsApp Business Platform is and the benefits it brings to companies:
What is WhatsApp Business Platform?
With a staggering 2.78 billion active users as of June 2023, a 12% increase from the previous year, WhatsApp is the world's most popular messaging platform. Recognizing the immense potential of this user base, WhatsApp Business has become the focus of businesses, as it is a tailored extension designed to meet their specific needs.
The WhatsApp Business Platform empowers medium and large enterprises to engage with customers on a larger scale. It offers programmatic access to WhatsApp, allowing businesses to tap into enhanced messaging features. These include sending media along with messages and incorporating "quick reply" buttons. With this platform, companies can connect with millions of customers simultaneously and seamlessly integrate with their existing tech tools. This platform serves as a dynamic bridge for businesses seeking to interact with their audience effectively on a global scale.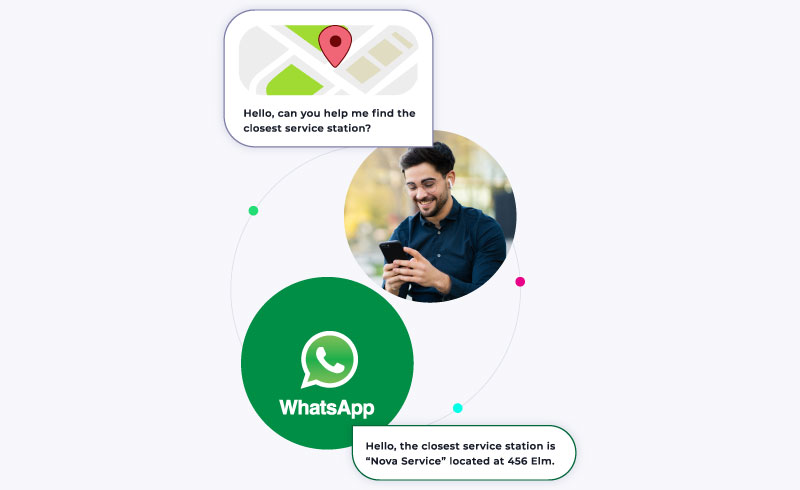 What are the top benefits of WhatsApp Business?
The WhatsApp Business Platform revolutionizes customer communications by providing a seamless and convenient messaging experience. Customers appreciate the ease of connecting with businesses using a tool they're already familiar with. Meanwhile, companies benefit from various tools that enable automation and rapid responses to messages, streamlining their communication process.
Efficient Engagement with Large Audience
Streamline your communication by effortlessly managing interactions with thousands of customers and prospects through seamless automation, intelligent chatbots, and personalized workflows.
Improved Customer Care
No more waiting on hold or getting lost in endless phone menus. Give your customers a direct line to chat with you in real time, which allows you to respond to customer inquiries quickly and efficiently.
Elevated Experience
Enrich your messages with multimedia elements such as images, documents, audio, video, and location attachments. This creates a seamless conversation experience beyond text-only interactions, surpassing language barriers and enhancing communication.
Enhanced Campaign Performance
Drive customer engagement through tailored offers, well-timed promotions, and exclusive deals. This strategy aims to amplify brand recognition, elevate conversion rates, and foster customer loyalty, all while optimizing ROI.
Robust Security Measures
Ensure secure business conversations with end-to-end WhatsApp encryption, guaranteeing user privacy and message authenticity. With end-to-end encryption in place, rest assured your messages are kept safe, and compliance concerns become a thing of the past.
Elevating Customer Service Standards
It's clear that customers want to engage with your brand through a familiar, convenient, and secure channel. That is why WhatsApp takes the lead as their preferred choice. To provide the services they seek, integrating with WhatsApp is essential. However, not all technology providers offer this integration. That's where a WhatsApp Business Partner, like Sestek, comes in to assist.
Arrange a demo today, and let's discuss how integrating WhatsApp Business can revolutionize your customer service with our experts.
For details check out our solutions page: https://www.sestek.com/whatsapp-customer-service